MET Live in HD: LA BOHÈME
Sunday, March 11 - 2pm
Buy Tickets
To order tickets by phone, call (805) 756-4849 Mon-Sat 12-6pm!

The world's most popular opera returns in Franco Zeffirelli's classic production, with a series of exciting casts. Angel Blue, Anita Hartig, and Sonya Yoncheva share the role of the fragile Mimì, with Dmytro Popov, Russell Thomas, and Michael Fabiano alternating as the poet Rodolfo. Alexander Soddy and Marco Armiliato share conducting duties.

World premiere: Teatro Regio, Turin, 1896. Met company premiere: Los Angeles (on tour), November 9, 1900. La Bohème, the passionate, timeless, and indelible story of love among young artists in Paris, can stake its claim as the world's most popular opera. It has a marvelous ability to make a powerful first impression and to reveal unsuspected treasures after dozens of hearings. At first glance, La Bohème is the definitive depiction of the joys and sorrows of love and loss; on closer inspection, it reveals the deep emotional significance hidden in the trivial things—a bonnet, an old overcoat, a chance meeting with a neighbor—that make up our everyday lives.
Giacomo Puccini (1858–1924) was immensely popular in his own lifetime, and his mature works remain staples in the repertory of most of the world's opera companies. His librettists for La Bohème, Giuseppe Giacosa (1847–1906) and Luigi Illica (1857–1919), also collaborated with him on his next two operas, Tosca and Madama Butterfly. Giacosa, a dramatist, was responsible for the stories and Illica, a poet, worked primarily on the words themselves.
Sung in Italian with English subtitles.
ESTIMATED RUN TIME: 2 HRS 55 MINS - READ SYNOPSIS
Sponsored by Denis and Leona Sullivan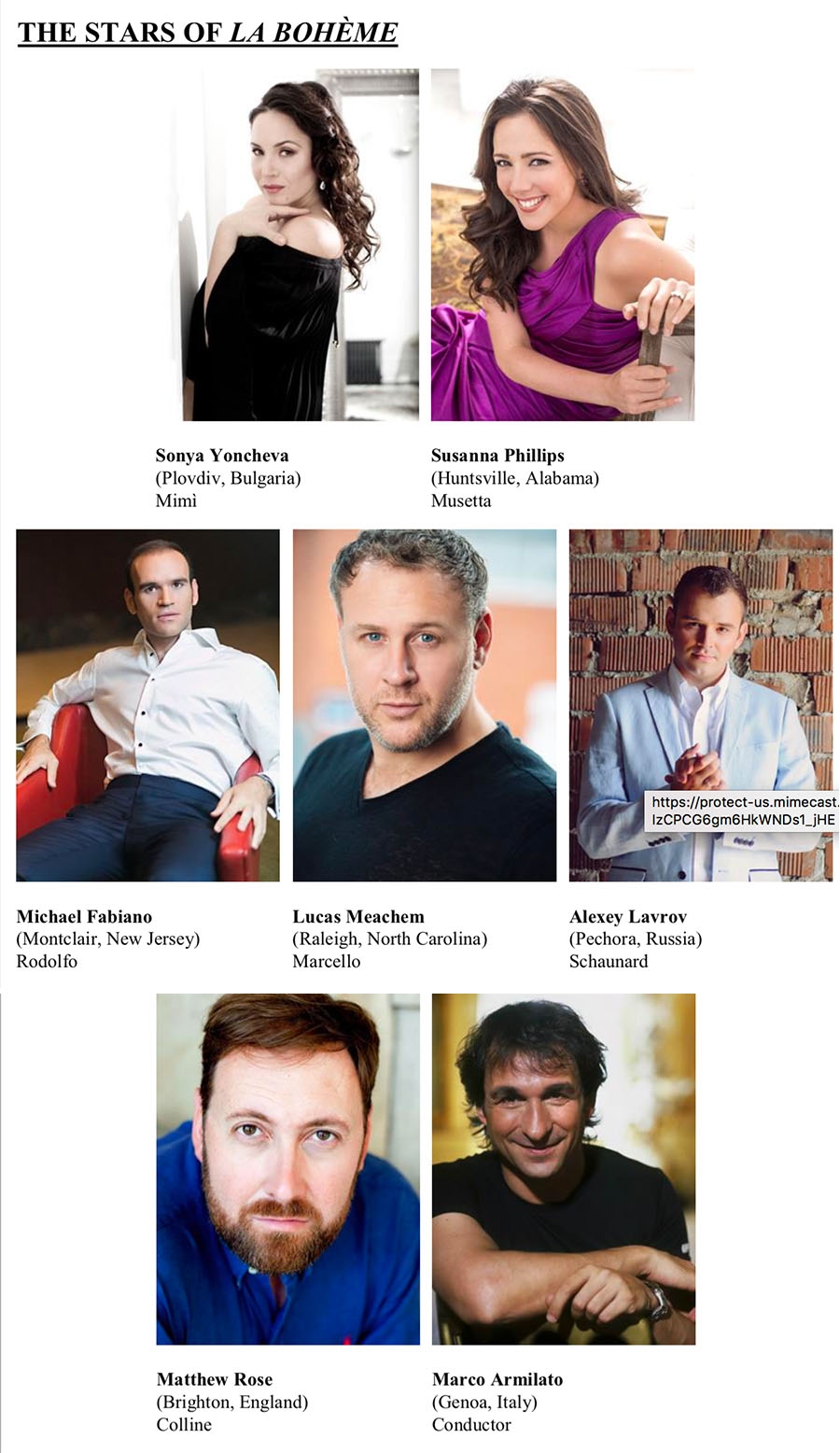 New this year! Maestro's Masterclass will be held just before each Met Live in HD screening from the Metropolitan Opera in New York. OperaSLO's very own Artistic Director and Conductor, Dr. Brian Asher Alhadeff will take opera lovers through an exciting multi-media interactive extravaganza detailing each opera. Participants will experience an in-depth and fun journey into the heart of opera: the composers, famous past and current opera stars, historic audio and video, and everything else you need to know before the show. Get the full schedule here.