POSTPONED: An Afternoon in New York: From Broadway to the MET
Saturday, May 9, 4pm | Performing Arts Center SLO
Buy Tickets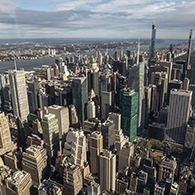 This broadcast is officially canceled due to the COVID-19 pandemic.
Please visit the PACSLO ticket office to learn about refund options.
To order tickets by phone, call (805) 756-4849. Box office times here.
Opera San Luis Obispo invites you to kick off Mother's Day weekend with a fantastic afternoon of music featuring the OperaSLO Grand Orchestra! This concert will dazzle patrons of all walks with selections of musical theatre, opera, ballet, modern dance, and chorus in a celebration of Central Coast arts and how much we have in common with the artistic vibrance of New York City! Special guests include OperaSLO's The Three Sopranos: Alba Franco-Cancél, Amy Goymerac, and Karen Dunn, in addition to other local favorites! This event is supported by the San Luis Obispo County Office of Education and other advocates for the arts.
Tickets: $25 per person