Opera Calendar
Below you can find all of our upcoming shows. Check back regularly for news and updates. We look forward to seeing you at the Opera!
"CAROUSEL" ON MOTHER'S DAY WEEKEND!
May 7 & 8, 2022 | Performing Arts Center, SLO
Make Mother's Day weekend an epic "musical" memory with Opera San Luis Obispo's grand production of Rodgers and Hammerstein's Carousel! This May 7th and 8th, a New England sea air will transcend upon Performing Arts Center San Luis Obispo in a spectacular full production of this classic Broadway hit. You've not experienced musical theatre until you see it produced by a grand opera company, and OperaSLO's production promises to thrill and wow patrons moment-to-moment with expansive sets and costumes, ballet, chorus, an internationally acclaimed leading cast, all accompanied by the full OperaSLO Grand Orchestra conducted by Brian Asher Alhadeff. The production will be directed by Zach Johnson, who successfully directed the 2019 production of South Pacific.
SATURDAY, MAY 7th - 2PM and SUNDAY, MAY 8th - 2pm

To order tickets by phone, call (805) 756-4849. PACSLO Box office times here.
About Carousel:
In a Maine coastal village toward the end of the 19th century, the swaggering, carefree carnival barker, Billy Bigelow, captivates and marries the gentle millworker, Julie Jordan. Billy loses his job just as he learns that Julie is pregnant and, desperately intent upon providing a decent life for his family, he is coerced into being an accomplice to a robbery. Caught in the act and facing the certainty of prison, he takes his own life and is sent 'up there.' Billy is allowed to return to earth for one day fifteen years later, and he encounters the daughter he never knew. She is a lonely, friendless teenager, her father's reputation as a thief and bully having haunted her throughout her young life. How Billy instills in both the child and her mother a sense of hope and dignity is a dramatic testimony to the power of love.
Want to know what an Opera San Luis Obispo grand production is like? See our media page to experience a short video from a recent past production!

Read More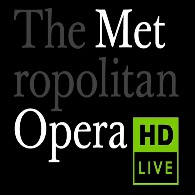 MET Live in HD 2021/22 SEASON
TEN OPERAS: Select Saturdays and Sundays at 2pm at the PAC
The MET Live in HD is presented at Miossi Hall Performing Arts Center San Luis Obispo through the co-sponsorship of Opera San Luis Obispo and Cal Poly Arts. Tickets go on sale this summer at www.pacslo.org or by calling (805) 756-4849 Monday through Saturday, 10am-6pm.
Fire Shut Up My Bones by Terence Blanchard | Sunday, November 14, 2021 - 2pm

Eurydice by G.F. Handel | Sunday, January 2, 2022 - 2pm
Cinderella by Goacchino Rossini | Sunday, January 16, 2022 - 2pm
Rigoletto by Giuseppe Verdi | Sunday, February 20, 2022 - 2pm
Ariadne aux Naxos by Richard Strauss | Sunday, March 27, 2022 - 2pm
Don Carlos by Giuseppe Verdi | Saturday, April 16, 2022 - 2pm
Turandot by Giacomo Puccini | Sunday, May 15, 2022 - 2pm
Lucia di Lammermoor by Gaetano Donizetti | Saturday, June 4, 2022 - 2pm
Hamlet by Ambroise Thomas | Saturday, June 18, 2022 - 2pm
Read More