New Year's Eve Super Gala with OperaSLO & Friends
Friday, December 31, 2021 at 7:30pm | Performing Arts Center San Luis Obispo
Buy Tickets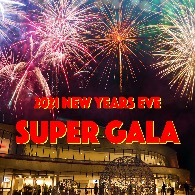 Make your plans for New Year's Eve with Opera San Luis Obispo at the PAC in an epic evening of pops, opera, musical theater, and dance! The OperaSLO Grand Orchestra and maestro Brian Asher Alhadeff present a fantastic line-up of world-renowned award-winning artist and ensembles including vocalists Alba Franco Cancel, Shira Renee Thomas, Karen Dunn, Eliana Nunely, Gregory Gorrindo, Dylan F. Thomas, and Zach Apel.


This unforgettable New Year's Eve Super Gala includes the San Luis Obispo premieres of George Gershwin's "I got rhythm" with pianist Terry Spiller, and "Bubbles: A tribute to Lawrence Welk" with dancers from Santa Barbara's State Street Ballet. And that's just the beginning as we promise to thrill you with the greatest music of all time including hits from West Side Story, Funny Girl, Carousel, Carmen, and Tocsa just to name a few.This amazing evening all happens in the Harold Miossi Auditorium in Performing Arts Center San Luis Obispo
TICKETS: $25 - $90 Online here, or by phone at (805) 756-4849, Monday-Saturday, 12pm-6pm.

PACSLO Safety Requirements: State and county guidelines require proof of vaccination, or negative COVID test taken 72 hours prior to the event start, in order to enter the Performing Arts Center San Luis Obispo. Masks are required at all times unless eating or drinking in the lobby. Please view all venue safety requirements, which will always have the most current and complete guest requirements to attend.