MET Live in HD: AKHNATEN
Sunday, January 12 - 2pm | Performing Arts Center SLO
Buy Tickets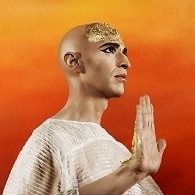 To order tickets by phone, call (805) 756-4849. Box office times here.

ten, the sun god, is glorified by Akhnaten, his wife Nefertiti, and Queen Tye, his mother. As the trio makes its pronouncement at the window, the sun rises behind them. Akhnaten and Queen Tye begin to make the changes that he has promised. He leads a revolt to banish the old religion and replace it with his own.
Star countertenor Anthony Roth Costanzo is Akhnaten with the striking mezzo-soprano J'Nai Bridges in her Met debut as Nefertiti. Karen Kamensek conducts in her Met debut that includes a virtuosic company of acrobats and jugglers.
Sung in Mixed with English, German, and Spanish subtitles.
ESTIMATED RUN TIME: 2 HRS 21 MINS, 2 intermissions
Sponsored by Mary Baiamonte