CANCELLED - BROADWAY ON THE VINES - Black Tie Fundraiser at Cass Winery
Sunday, August 15, 2021 - 6pm | Cass Winery Barrel Room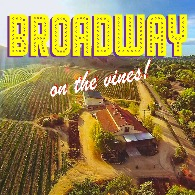 Due to recent exposures and infections within our close music community, a 56% increase in the County number of COVID infections last week, and two COVID deaths in the last week, the Opera San Luis Obispo Board of Directors has made the difficult decision to cancel this weekend's Broadway events in San Luis Obispo and Paso Robles. We join with several other non profit performing arts companies in cancelling live public events occuring this weekend.
We are grateful that you chose to spend the weekend with us and help make our fundraiser a success. We understand these are expensive tickets and wish to offer you a full refund. We are also grateful to our ticket site ticketleap.com for including all service fees in the refund as well. If you purchased tickets to this event, you will receive an email with similar notification and information how to process a refund.
This decision was not easy to make, and there will be negative financial consequences to OperaSLO, but if doing this keeps you safe and saves lives, it must be the correct decision. We thank you for your understanding. If you have any questions or comments, please feel free to respond to this email, or call me directly at (805) 782-7342.