BEST OF BROADWAY - SLO Edition!
Saturday, August 14, 2021 - 1pm | Courtyard by Marriott Terrace and Banquet Rooms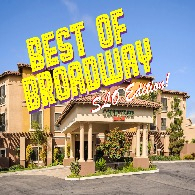 This year our annual Broadway themed, San Luis Obispo fundraiser, takes place at the Courtyard By Marriott! Enjoy an afternoon luncheon and Broadway's best; featuring seven nationally acclaimed singers from Valley Opera Performing Arts, including special guest appearance by OperaSLO Resident Artist, Alba Franco-Cancel. This elegant experience is accompanied by members of the OperaSLO Grand Orchestra conducted by Maestro Alhadeff.
In perfect harmony with our musical bounty, this memorable afternoon takes place at the terrace and banquet rooms of Courtyard by Marriott, 1605 Calle Joaquin, San Luis Obispo, CA 93405. Guest will be treated to a champagne welcome upon entering through Courtyard's beautiful outdoor terrace. Ticket price includes complimentary wine, champagne, and a three course dinner (selection of chicken, fish, or vegetarian entree). $125 per person. Click the link below to purchase tickets now, or, turn your experience "overnight" with a comprehensive package that includes a stay at the Courtyard By Marriott, an elevator ride away from the concert (extremely limited availability - for overnight stay, contact Courtyard By Marriott immediately at (805) 786-4200).