MET Live in HD 2022/23 SEASON
OperaSLO's Special Relationship with the MET Live in HD!
Buy Tickets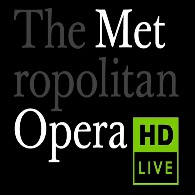 Join long-time OperaSLO Board Member Dr. John Frey in a wonderful course through New York's Metropolitan Opera "Live in HD" broadcast series. Dive deep into the history of each opera and its composer a few days before the opera shows at San Luis Obispo's Downtown Cinema! Each preview course is held at the SLO County Office of Education: 3350 Education Dr, San Luis Obispo, CA 93405 - just across HWY 1 from Cuesta College.
$5 per class. You can also purchase a 125-page spiral-bound course syllabus for $15. Downtown Cinema MET HD tickets sold separately. The Downtown Cinema is located at 888 Marsh St, San Luis Obispo, CA 93401 For specific questions and additional information please contact John Frey at JENFREY@aol.com or by phone at (805) 549-0721. Remaining courses and showings below:
Lohengrin by Wagner
Preview Course = WED. Mar 15 (1 PM)
Downtown Cinema Showing = SAT. Mar 18, 2023
Falstaff by Verdi
Preview Course = WED. Mar 29 (1 PM)
Downtown Cinema Showing = SAT. Apr 1, 2023
Der Rosenkavalier by R. Strauss
Preview Course = WED. Apr 12 (1 PM)
Downtown Cinema Showing = SAT. Apr 15, 2023
Champion by Blanchard
Preview Course = WED. Apr 26 (1 PM)
Downtown Cinema Showing = SAT. Apr 29, 2023
Don Giovanni by Mozart
Preview Course = WED. May 17 (1 PM)
Downtown Cinema Showing = SAT. May 20, 2023
Die Zauberflöte by Mozart
Preview Course = WED. May 31 (1 PM)
Downtown Cinema Showing = SAT. Jun 3, 2023