Sail Away with South Pacific
Wednesday, September 18, 2019
We thank Colony Magazine in Atascadero for featuring a story about our upcoming grand production of South Pacific on October 12 and 13, 2pm, at Miossi Hall, Performing Arts Center in San Luis Obispo. Get tickets at www.pacslo.org.
OperaSLO promises a grand South Pacific production with dancing, singing, expansive sets, props, and costumes, all accompanied by the OperaSLO Grand Orchestra. The production is directed by Zachary Johnson, choreographed by Drew Silvaggio, and musically directed and conducted by Brian Asher Alhadeff. Performances are Saturday and Sunday, October 12 and 13, 2pm. To purchase tickets, visit pacslo.org You can also order by phone Monday-Saturday, 12-6pm, 805 756-4849.
A pre-show lecture will be held one hour before curtain at both performances.
The following article is in the September issue of Colony Magazine. You can visit the magazine's online reader here.
Sail Away with South Pacific

Opera San Luis Obispo (OperaSLO) recently held auditions for Rodgers and Hammerstein's classic musical South Pacific and local performers reeled in coveted roles. "Our auditions are tough. There is no special treatment for locals," said Brian Asher Alhadeff, Opera SLO Artistic and General Director. "Everyone has to meet high musical standards. It just happens that we have so many talented performers in our region." About half the cast is comprised of locals.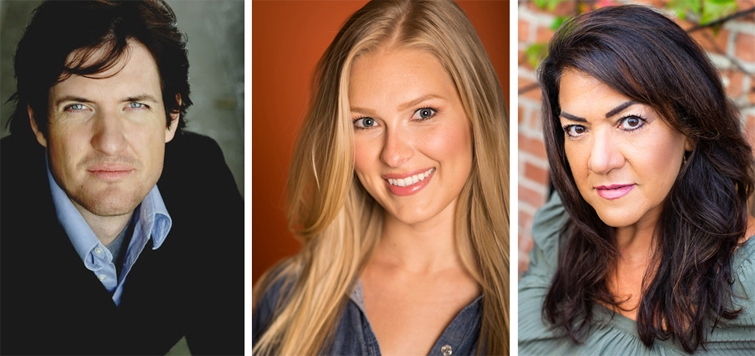 (Left to right: Gabriel Manro plays "Emile," Skye Privat, is "Nellie," and Dori Duke, is "Bloody Mary.")
Dori Duke, who plays the sassy merchant role of "Bloody Mary," lives in Templeton and retired after 34 years working for the County of San Luis Obispo. She has been involved with music and theater since high school. "I've had a love for musicals my whole life. My father was an amazing tenor and performed in many opera productions," Dori explained. "This production is especially meaningful for me. Both of my parents loved South Pacific and the soundtrack was often playing in our house. I like to think they'll both be looking down and singing along with me."
Premiering on Broadway in 1949, South Pacific was a hit with 1,925 performances and 10 Tony Awards. Based on the Pulitzer-Prize winning short stories by James Michener, the musical is set on a tropical island during World War II. The story weaves parallel romances with culture clashes, as U.S. sailors wait for their naval deployment against the Japanese fleet.
South Pacific features popular tunes including "Some Enchanted Evening," "I'm Gonna Wash That Man Right Outa My Hair," "I'm in Love with a Wonderful Guy," and "Bali Ha'i.
Skye Privat, who plays the lead role of "Ensign Nellie Forbush," recently graduated from Pacific Conservatory Theater (PCPA) at Allan Hancock College in Santa Maria. William DuFuria, from Lompoc, delivers comic relief as "Luther Billis," and Gregory Gorrindo, San Luis Obispo, is L.T. Joseph Cable, the handsome officer who is new to the island and all the sailors' antics.
Elizabeth Umphenour, 15, Atascadero High School, landed a role as one of the nurses. "Elizabeth has a wonderful voice and this is a great opportunity for her to work alongside seasoned professionals," said Alhadeff.
Gabriel Manro, a two-time Grammy Award-winning baritone, portrays "Emile de Becque," a wealthy, sophisticated French gentleman. Manro attended schools in Atascadero and Templeton, where he began learning the violin and taking voice lessons. He has performed in numerous OperaSLO productions including the role of "Curly" in Oklahoma! in 2018. He currently performs with LA Opera.
During the curtain call for Oklahoma!, Manro delighted audience and cast alike when he proposed to Justine Prado, the stage manager. She answered with a resounding, "Yes," and the happy couple danced as the 50-piece orchestra played "People Will Say We're in Love," a song from the show. The married couple return for South Pacific with Gabriel in a leading role and Justine as stage manager.
OperaSLO promises a grand South Pacific production with dancing, singing, expansive sets, props, and costumes, all accompanied by the OperaSLO Grand Orchestra. The production is directed by Zachary Johnson, choreographed by Drew Silvaggio, and musically directed and conducted by Brian Asher Alhadeff. Performances take place at Performing Arts Center in San Luis Obispo, Saturday and Sunday, October 12-13, 2pm. To purchase tickets, visit pacslo.org