We Believe Art is a Human Right
Wednesday, September 18, 2019
We Believe Art is a Human Right
Written by Brian Asher Alhadeff, Opera San Luis Obispo General and Artistic Director
At Opera San Luis Obispo, we believe that art is a human right. An arts education helps young people develop empathy and understanding about other cultures, as well as our own.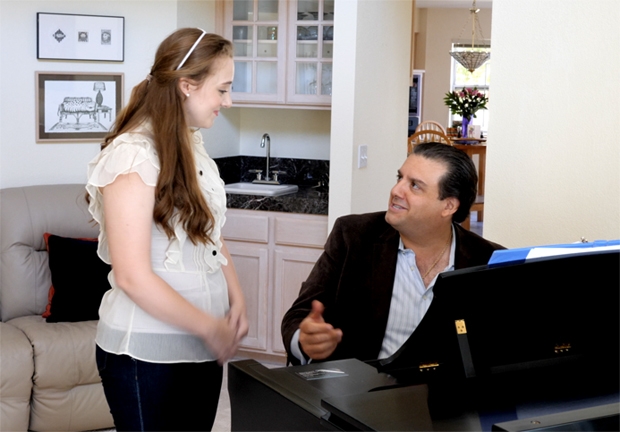 (Elizabeth Unphenour, 15, Atascadero High School, works with Brian Asher Alhadeff.)
However, over the last few decades, arts education has become less of a priority in schools in part because it has been overshadowed by science and technology.
We are taking the initiative to support the growth of young artists in our community by partnering with the San Luis Obispo County Office and the Education Arts Collaborative. We are providing students an opportunity to work alongside OperaSLO's professional artists and to be able to perform in a professional venue.
The catalyst for the Education Arts Collaboration began when County Superintendent Dr. James Brescia was awarded two grants from the National Endowment for the Arts and the California Arts Council. Through this funding and partnership, OperaSLO is enhancing arts education in the classroom and outside before the public.
A great example is captured in the video. Elizabeth Umphenour, 15, Atascadero High School, was selected to perform during OperaSLO's Broadway by the Sea and Broadway by the Lake. These productions featured nationally-acclaimed vocalists who were able to mentor and inspire Elizabeth during rehearsals. Elizabeth worked with her voice instructor, Marissa Bloom, and myself to prepare for the role. The effort paid off with an outstanding performance of Phantom of the Opera's "Think of Me." Watch the video to the end, Elizabeth delivers a sweet surprise.
From this experience, Elizabeth gained a boost in confidence and decided to audition for one of the roles in OperaSLO's South Pacific production. It was tough audition, but she excelled and won the role of one of the Navy nurses in the cast. Bravo!

We hope that you join our email list so you may be kept up to date about these collaborations that help our students grow artistically and enhance their academic success.