The OperaSLO Costume Shop
Tuesday, October 8, 2019
Meet Barbara Abbott, lead costume designer for OperaSLO's grand production of South Pacific – happening on October 12 & 13. (Visit www.operaslo.org for tickets!)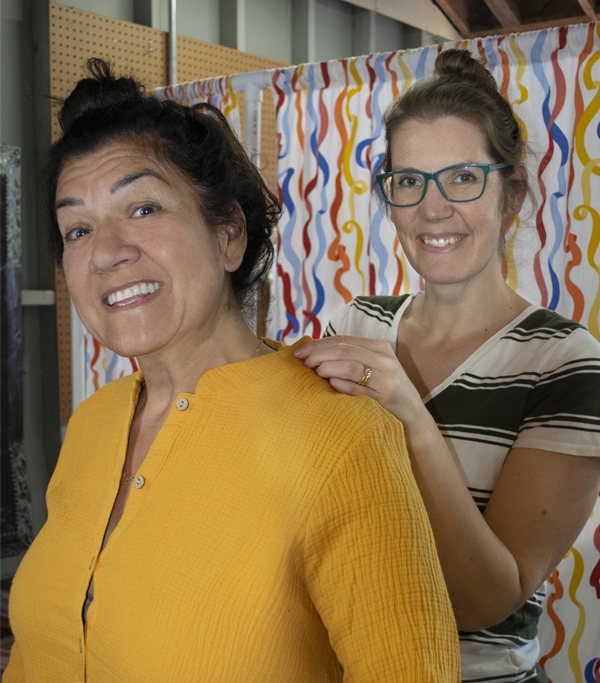 (Dori Duke, who plays "Bloody Mary," is fitted by Barbara Abbott, costume designer.)
We stopped by the costume shop and asked Barbara a few questions:
How long have you been preparing for South Pacific?
I started with research back in July, then, once we had our cast list in August I went to costume storage and the nearby theatre stocks to see what we could easily pull and borrow. Then, knowing the holes that needed to be filled, I shopped online to see what was available and would fit our budget.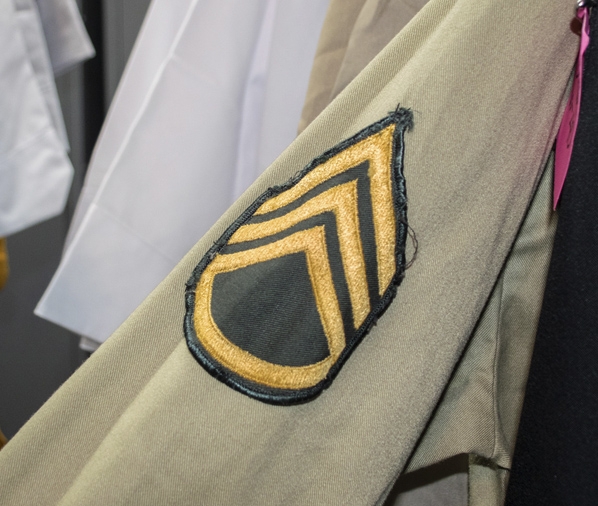 How many costumes are there?
There are roughly 400 pieces including shoes and accessories. We have 35 actors with an average of 3 looks a piece.
Thank goodness we have a team working on this! Sherry Sparks is the design assistant and we have two wonderful stitchers, Megan Selby and Jamie Umphenour. They'll be helping with alterations once fittings start and they'll also help run wardrobe for the performances.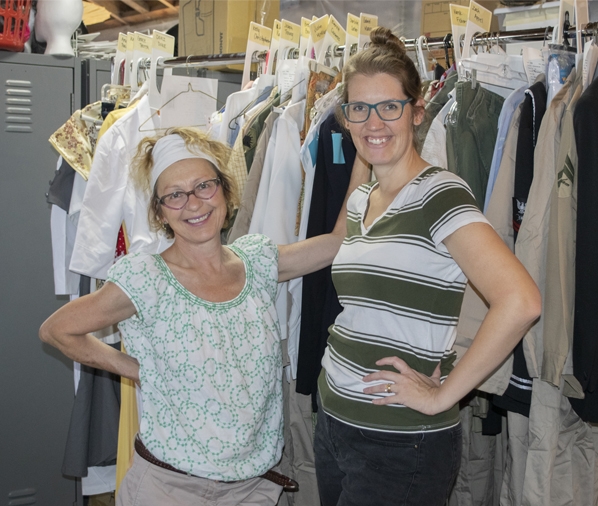 (Sherry Sparks and Barbara Abbott)

What research have you spent the most time on?
I've spent quite a bit of time on the uniforms because there are so many nuances based on rank, location, climate, and leisure vs. combat.
I found an AWESOME resource of drawings from a pamphlet created by the US government during WWII to help allies in other countries recognize our people. That pamphlet had a rough itemized description and it was a very helpful resource.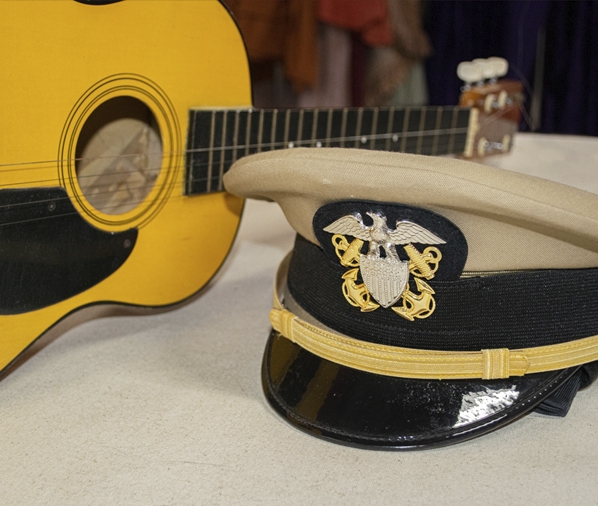 And then there are the nurses. Once again, through the majority of the show they're in leisurewear (which is a lot of fun to put together) and then you see them in uniform at the end.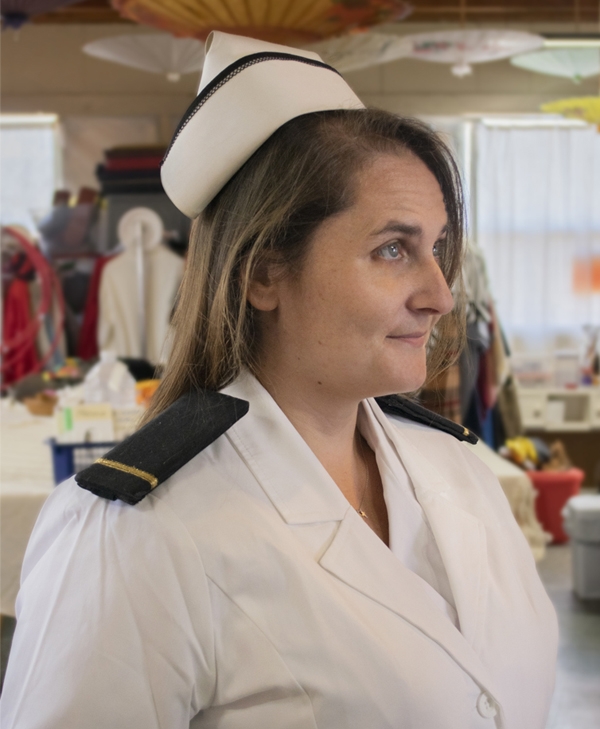 (Kelley Christopherson, who plays the lead nurse in South Pacific)
If people are going to notice inaccuracies in the costumes, it will be in the military uniforms, so it's important to make them look as authentic as possible; however, there is a balance that we, as a production team, get to strike between accuracy and what will read from stage and what will fit into the specifications of budget, movement, and other needs of the show.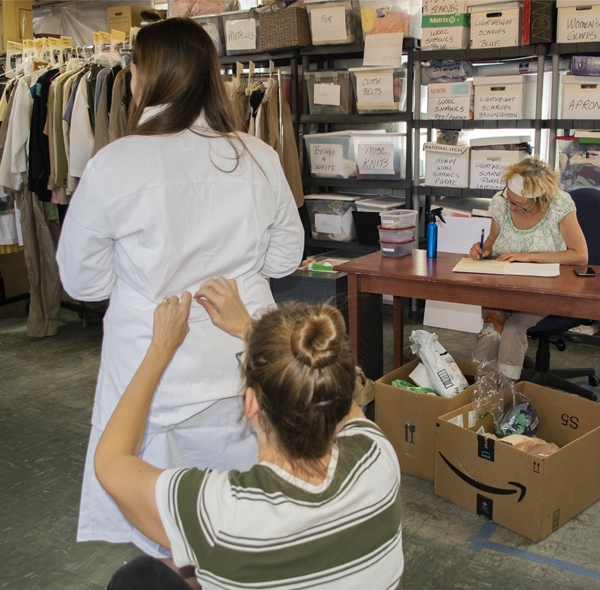 (Team effort...Barbara making adjustments and Sherry taking meticulous notes.)
Anything out-of-the-ordinary?
There's a fun "show-within-a-show" at the top of Act 2 called the "Thanksgiving Follies," when the nurses put on a performance for the troops. For that I'll be building two "turkey tails!" The idea is that the nurses use the materials they have on the island to make their costumes. I'm planning to make fashion them out of big tropical fern leaves that are painted to look like turkey feathers.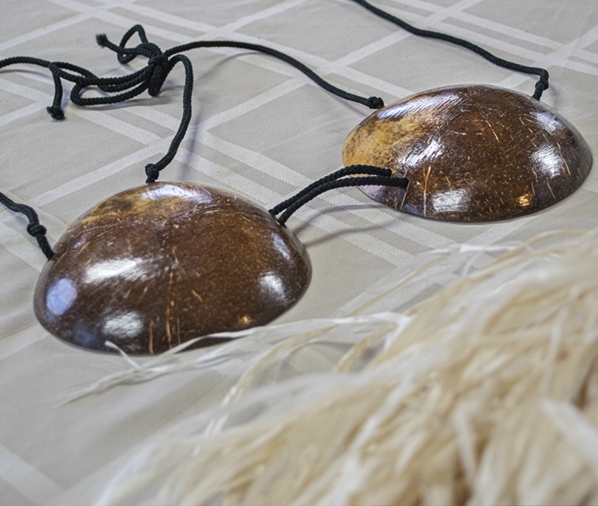 ("Luther Billis" wears the coconut bra during the "Follies" scene in South Pacific.)
What's your background in costume designing?
I've been costuming for 12 years. I started my junior year of college after taking my required costume design class and realized how much I liked it (though looking back, it wasn't that big of a surprise). I have a B.A. in technical theatre from Pepperdine University and an MFA in costume design from Indiana University.
I did a two-year costume design internship at PCPA after undergrad, where I met my husband - in a costume fitting! I've been working consistently as a costume designer and technician since graduating from Indiana in 2014. My husband and I moved back to the area in 2018, and I've worked as a cutter/draper for PCPA and a designer for Central Coast Gilbert and Sullivan.
Back in February, I switched from working full time in a costume shop to staying home full time with my two young girls, ages 2 and 4. Right now I'm freelancing as a costumer part-time and working on South Pacific has been a blast!
Story Note:
Yes, the cats are still in control of the costume shop. The ladies take turns stopping by and giving the loyal mousers lots of loving care.